Volume8-Introducing Narita Koi Farms Japan Using Kyorin's Hikari Brand Diets
This time we interviewed Mr. Ryuki Narita of Narita Koi Farms Japan which is one of the top dealers in the country. A large number of koi Narita Koi Farms Japan have raised, have been winners at various koi shows in and out of the country.
We hope to get some insight in to their superior koi raising skills.
1-About Narita Koi Farms Japan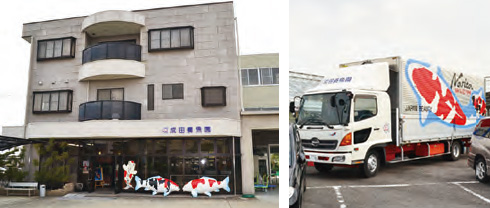 They have developed several koi raising skills which help them easily meet the various demands of even the most descrimininating koi lovers. Furthermore, they have established a special bond with many of the leading koi breeders that they are frequently allowed to see their secret koi; those special koi the breeders reserve for only their very best customers.

Narita Koi Farms Japan holds a koi auction twice a year, each spring and fall, providing an occasion for koi breeders and koi lovers to meet face to face. Many amateur koi keepers enjoy bidding at auction while the breeders of the prized entries watch. The breeders also have an opportunity to discuss the strong points of their koi with the potential buyers by personally answering their questions.

Narita Koi Farms Japan does not breed koi themselves, but are rearing experts who can transform ordinary koi in to award winners with great consistency. They work diligently to maintain an adequate stock of koi from renowned breeders so they can consistently offer excellent quality koi to their customers. They continually strive to strike a good balance between the koi breeders 'expectations and koi lovers' demands.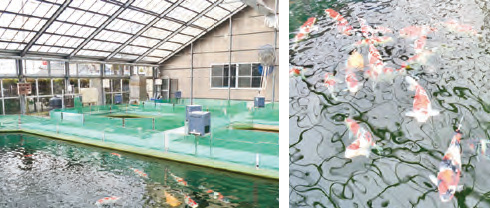 Narita Raised Grand Champions at the All Japan Koi Shows
The 37th Show, 2006
Breeder: Sakai Fish Farm
Owner: Mr. Martin Plows & Mr. Mark Crampton (UK)
This is the first Narita-raised koi to win the grand championship.

The 38th Show, 2007
Breeder: Dainichi Koi Farm
Owner: Mr. Katsuo Shibayama
This is the second consecutive year that a Narita-raised koi won the grand championship.
The 41st Show, 2010
Breeder: Dainichi Koi Farm
Owner: Mr. Masao Kato A Niigata-born koi wins at a Niigata held All Japan Koi Show.

The 43rd Show, 2012
Breeder: Dainichi Koi Farm
Owner: Mr. Jitsuro Takagi
Once again a Narita-raised koi wins the grand championship.
2-Future of Koi Keeping as a Hobby
Q. Please let us know your vision as a koi dealer-rearer
We are pursuing our main business of maintaining a stock of promising koi and tending to them in order to win awards at koi shows. At the same time I am concerned that the value of koi in the eyes of the judges has become cut and dried. I feel strongly that we should offer koi lovers a variety of Nishikigoi to allow them to maximize their enjoyment and allow them to choose their own way when deciding which fish to keep. We sell very reasonably priced koi, as well as high class koi such as Gosanke and offer more than 70 other varieties. No koi has the same markings and each koi lover can find a koi to fit their own unique taste. On the Internet we offer koi with very unique markings which aways sell well. We also want to convey the charm of smaller-size koi which can be kept in regular home aquariums.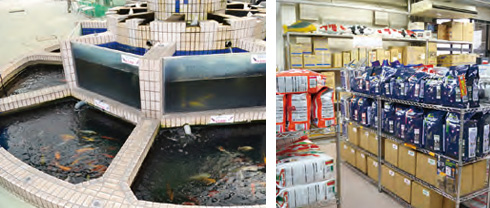 3-Daily feeding and putting our finishing touches on the koi
Q.Do you think what the koi is fed has an effect on its ultimate development?
Yes, the food has a significant impact. I recommend the Saki-Hikari® series food for those looking to have a chance to win a koi show award. This line is a very useful and reliable food with predictable quality and efficient ingredients. You don't need to add any other nutrients to find success. We use a number of the Saki-Hikari® varieties by blending them according to the season. The exact ratio of the mixture for each time of year is part of special our expertise.