SPECIAL
Saki-Hikari's SPECIAL INDEX

Saki-Hikari's Special "Koi Breeder Preferred Saki-Hikari"


Vol.4
Introducing Omosako Koi Farm Using Kyorin's Hikari Breand Diets
Continuing our conversations with leading Japanese koi breeders this time we visited Omosako Koi Farm, to spend time talking with Mr. Takashi Omosako, the president of Omosako Koi Farm and Mr. Takayoshi Omosako who has worked hard to establish the Shiro-Utsuri's unshakable position in the Gosanke varieties.
Ⅰ
About Omosako Koi Farm
[History]
Located in Hiroshima, one of two largest koi breeding regions in Japan,the 55-year old farm is famous for Omosako Shiro-Utsuri.
There are two breeding teams on the farm: one led by President Omosako which mainly cultivates Omosako Shiro-Utsuri using six spawnings annually and the other led by Mr. Takayoshi Omosako which cultivates Omosako Showa using two spawning each year. The annual total of 40,000 Shiro-Utsuri accounts for 90 % of their total cultivation. All koi are grown out in 40 ponds located in seven indoor houses.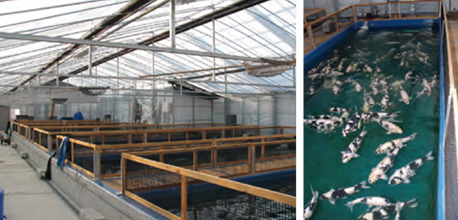 [President Omosako's objectives during Shiro-Utsuri cultivation]
According to President Omosako, the ultimate goal of their cultivation process is growing Shiro-Utsuri which have superior qualities when compared to other Gosanke varieties. The primary objective is to beat other Gosanke varieties at the major koi shows. They work diligently to improve the darkness of the Sumi markings and luster of the pure white background so as to highlight the Sumi. President Omosako says, "Our Shiro-Utsuri's quality must be approved by all of the judges in a koi contest. There are no other factors other than beautiful white skin and bold black Sumi on Shiro-Utsuri, so it is very difficult to deceive the judges' eye. It is never an easy task to grow Shiro-Utsuri but that's why this variety attracts our farmers."
The quality, physical beauty and breeding quantity of the Omosako Shiro-Utsuri, originates from the "Tatsuma Utsuri" lineage. The jumbo Shiro-Utsuri, "Musashi", 92 cm in length, "Panda", 90 cm, and "Godzilla",92 cm, were born one after another. In 2010, a descendant, "Zebra",bettered the long cherished record by reaching 57 cm at the age of two and 70 cm at when it turned three. With this ongoing evolution the Omosako Shiro-Utsuri has entered another new stage.
[President Omosako's most impressive Shiro-Utsuri]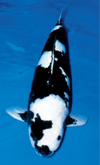 Nicknames "Musashi" President Omosako considers this offspring the ideal Shiro-Utsuri in quality and size.
The fish won the 85 Bu Kokugyo Prize in the 36th All Japan Koi Show. Today it has reached 92 cm in length,and has been spawning as a koi parent since its impressive victory.
[The Omosako Showa for which Mr. Takayoshi Omosako focuses his efforts]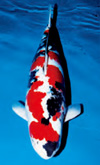 After a five year training period at the Dainichi Koi Farm in Niigata, Mr. Takayoshi Omosako is now working diligently to produce a new Showa variety that possesses both the grand physique of the famous Dainichi Showa and the lustrous Sumi markings of the Omosako Shiro-Utsuri. During our visit we were unable to take our eyes off their beautiful Showa.
Ⅱ
Phantasmagoric Sumi markings of Shiro-Utsuri
Here is an excellent example of the dynamic changes the Sumi undergoes as the 65 Bu Shiro-Utsuri that won the mature championship in the 38th All Japan Koi Show in 2007 ages.
Omosako says, "This is unique example of the changes of the Sumi. Not all the Shiro-Utsuri's Sumi develops like this, but there is usually a high possibility of desirable Sumi with age. The attractiveness of Tategoi usually is true to their potential." Through his words, we could feel this farmer's strong intention and realize the true charm of the Omosako Shiro-Utsuri.
Q.How can amateur koi lovers truly enjoy keeping Shiro-Utsuri?
In order to enjoy the phantasmagorical Sumi markings, amateur koi lovers should understand the types of Sumi markings and that Sumi will change according to breeding environment as well as the lineage. If possible, keep several Shiro-Utsuri with differing types of Sumi markings,such as already fixed Sumi markings, late bloomer, and those similar to the Showa variety, and examine which type of Sumi markings are most adaptable to your breeding environment. It is often said that the Sumi is influenced by the hardness of water. The harder it is, the more the Sumi tends to appear. The Japanese water is always soft. It would be very interesting to keep Shiro-Utsuri in some foreign countries where the water is harder.
Ⅲ
How to grow koi large, and the importance of diet
Q.What is the most important factor to grow larger koi?
I pay careful attention to our koi to be sure they are growing at a healthy rate while maintaining a desirable body shape. As you know, the dark and lustrous Sumi and the beautiful white background are the primary requirements for the ideal Shiro-Utsuri, but the value rapidly drops when it loses its shape.
To maintain the koi's value, three things are equally important, the lineage of the koi, its breeding environment and the diet it's offered. We carefully select fine food that makes our koi grow large while maintaining the desired shape.
Do you have any particular preference for koi food?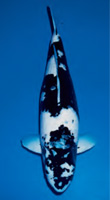 We feed our koi exclusively the Hikar® koi diets. We use a sinking type food in our mud ponds and a floating type in our cement ponds. Of course, we use the Saki-Hikari® series too and now we feed our koi Saki-Hikari® "Pure White™" for the purpose of intensifying their white skin as the koi shows approach. We feel we had very good results at the 42nd All Japan Koi Show; Best in Utsurimono Prize, 70 Bu Sakura Prize and 15 Bu, 35 Bu, 40 Bu, Kokugyo Prizes. We are also thinking about using Kyorin's growth food. We feel it will certainly meet your expectations.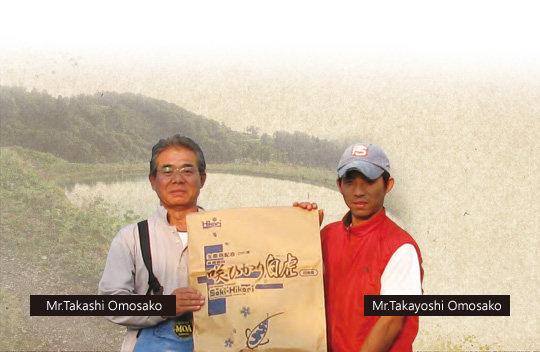 [an error occurred while processing this directive]