SPECIAL
Saki-Hikari's SPECIAL INDEX

Saki-Hikari's Special "Koi Breeder Preferred Saki-Hikari"


Vol.7
Introducing Minuma Koi Farm Who Uses Kyorin's Hikari® Brand Diets
We continue to visit top koi breeders to introduce you to their unique focus.
This time we interviewed Mr. Kenichi Wada of the Minuma Koi Farm, which is famous for their Goshiki breeding. The Goshiki variety has been gaining popularity, as has the Gosanke and Shiro Utsuri varieties, due to their distinct Hi patterns.
Ⅰ
About Minuma Koi Farm
[History]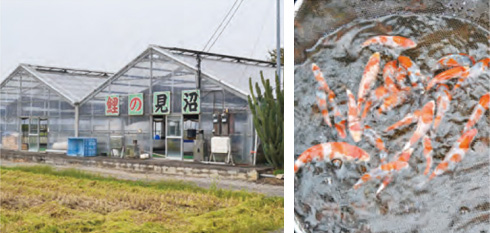 Minuma Koi Farm breeds the Minuma Goshiki and is located in Saitama Prefecture, close to Japan's capital Tokyo. The farm has ponds in two separate prefectures, Niigata, which is the birthplace of Nishikigoi, and Saitama. More than 80 percent of their farm is devoted to Goshiki breeding. They normally have 6 to 7 Goshiki spawning, 3 to 4 Ginrin Goshiki spawning and 2 Showa Sanshoku spawning annually.
The farm's signature offspring, Minuma Goshiki, has been refined with many years of keen study and practice. The gorgeous Hi markings of their fish look as if they are truly a work of art. Recently, they have been putting a great deal of time and effort into the improvement of the Ginrin Goshiki variety.
Mr. Kenichi Wada'sUnforgettable Goshiki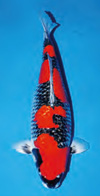 The farm had been focused on improving the Ginrin Goshiki by putting their Goshiki breeding experience to diligent use. This was the first ideal Ginrin Goshiki the farm had ever bred. This winner had a stronger tint of red in the Hi and is called "Minuma Ginrin Goshiki". The birth of this Ginrin Goshiki was a very special event for the farm.
Ⅱ
Production style of Minuma Koi Farm
The Asagi markings change from season to season
Do any of you know that the Sumi markings of Goshiki (Asagi markings) can change significantly as does the seasons?
Like cherry blossoms, the Asagi markings become their most beautiful when the season turns from winter to spring. On the contrary, during the summer season the color could be fade and in some cases, their Sumi markings could be fade so much that some people believe the fish are Kohaku.
The photos below, shows the koi which won the 55 Bu Kokugyo Prize at the 42nd All Japan Koi Show (2011). The seasonal Asagi markings offer additional charm: in summer, making it look as if it were a Kohaku, and in the winter developing the beautiful Asagi markings which match its name, Goshiki.
Mr. Wada said the Goshiki can become more and more beautiful when kept in hard water. For this reason the Goshiki variety is currently gaining popularity in some foreign countries.
Q.Mr. Wada, what are you doing to reduce breeding issues?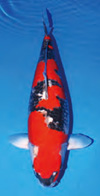 We are tackling a difficult problem now; how to grow Minuma Goshiki larger while retaining their beautiful markings. We thought using our Kohaku enlargement technique, after selecting the outstanding Tosai Goshiki and while they were very young, coupled with raising only a small number of them in the same pond would bring good results. However, this didn't work on the Goshiki, because during the summer season, while they are very young, the selection process is very difficult because they look like a Kohaku. We have found we have to wait until the winter season when their Goshiki markings unveil themselves.
We thought that crossing a Goshiki with a Kohaku would help us develop jumbo koi. Unfortunately, this didn't work either, because the Goshiki can only be bred effectively with one another. There is also one more problem. Unlike Kohaku, there are only a limited number of Goshiki koi parents we can use for breeding. We also have to remember, breeding close blood relatives should be always avoided.
As you can see, we have lots of problems to conquer. Even so, we're very pleased we had a 5-year-old Goshiki, which was 75 cm long, win the Sakura Prize in the 42nd All Japan Koi Show, 2011. It will not be long before Goshiki over 80 cm will be common and with breeding advances they will be able to maintain their beautiful and powerful markings as they grow.
Ⅲ
Daily koi feeding and the finishing touch process
Q.What do you require from the koi food you use?
Since we are breeding koi that will grow beautifully without any special breeding skills of koi lovers, we use reliable food for our koi. We chose Kyorin's Saki-Hikari® series, after considering the following benefits:
It has the taste koi enjoys
It keeps the koi in good shape
It's highly adaptable to a wide range of water temperatures
It provides the user with a large variety of choices for their unique demands
It guarantees predictable quality so each user can expect the same effect and result for their koi
We use the Saki-Hikari® Color Enhancing to enhance the Goshiki's excellent Hi, adjusting the amount fed prior to entry into the koi shows. Unlike other color enhancing feed on the market, the Saki-Hikari® series enables us to use it even in colder water conditions (below 13 ℃).
We confidently recommend the Saki-Hikari® series to our customers regardless of their koi keeping situation.
I think our production motto, "striving for improvements with our koi's beautifully swimming figures in mind", has helped to popularize the Minuma Goshiki around the world.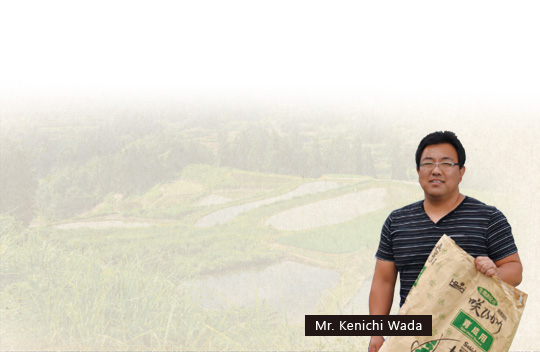 [an error occurred while processing this directive]