SPECIAL
Saki-Hikari's SPECIAL INDEX

Saki-Hikari's Special "Koi Breeder Preferred Saki-Hikari"


Vol.6
Introducing Nogami Koi Farm Using Kyorin's Hikari® Brand Diets
As we continue our visits to top koi breeders to introduce you to their focus and expertise, today finds us with Mr. Hisato Nogami. Nogami Koi Farm bred spectacular Kohaku that have continuously won grand championships; Niigata Nishikigoi Show, 2008 and 2011, and in the Zen Nihon Rinyukai Show, 2010.
Ⅰ
About Nogami Koi Farm
[History]
Located in the city of Nagaoka,Niigata, the farm has a 44year breeding history.
They produce a total of 1,000,000 (yes, million) koi annually using six Kohaku and three Showa in their spawning process using four indoor pond houses and 50 field ponds(Approximately five hectares of farming area). The Kohaku variety accounts for 80% of their total output.
After graduating from high school,Mr. Hisato Nogami trained for 15 years at one of the best farms in Japan, Dainichi Koi Farm. He worked under the farm's predecessor, Mr.Minoru Mano, from whom he learned how to properly handle and examine koi, while also learning the business side, like how to deal with customers and so much more.
The farm is very clean and all the tools are kept in their proper place,which Mr. Hisato Nogami was taught by Mr. Mano. He says "Nishikigoi are works of art, and thus their environment including the tools and instruments must always be kept clean and tidy."
[Mr. Hisato Nogami's unforgettable koi]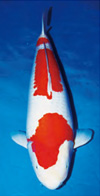 This Kohaku ("Takara") was produced, raised and personally given the finishing touches by Mr. Hisato Nogami as his first solo trial. It is representative of the Nogami Kohaku whose quality and white base are most impressive.
When this fish was young, it already showed refined quality, luster and body shape with splendid skeletal structure. Unfortunately, its pattern was rather poor due to the poor second Hi marking which was a little too short and didn't hang down the side of the fish's body.
However, when the fish reached seven years old, its skin came to look even more beautiful. The fish turned to a Kohaku whose highlight became the beautiful pattern created by the brilliant white base adorned with red Hi markings. Even that poor second Hi was working to set off the glistening scales and pure white skin.
At the age of eight, Mr. Nogami exhibited this Kohaku in the 48th Niigata Nishikigoi Show, where it won the grand championship. After that, Mr.Nogami decided to exhibit it in a national show, and started to develop his finishing touches to this Kohaku personally. He chose to use two types of Saki-Hikari®, one for gaining weight and the other for color enrichment. He also learned the kind, amount and exact time to stop feeding food were paramount to his success. This Kohaku was nominated as one of the candidates for the grand champion in the 40th All Japan Koi Show, and created much excitement at the show. The next year, in the 41st show, it obtained the Kokugyo Prize in the 90 Bu class.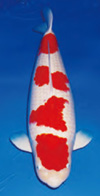 Ⅱ
Production style of Nogami Koi Farm
Q.What sort of koi do you intend to breed?
I intend to produce koi with splendid Hi and white skin along with a magnificent physique. However, I always attach more importance to the beauty than the size of the fish.
Q.Could you tell us your secret to choosing a good Nogami Kohaku?
The Nogami Kohaku has a trait of gradually becoming a better koi.When you choose a young Nogami Kohaku, please choose one with a solid body shape and don't pay too much attention to the markings and the color of the skin.
Q.With a total farming area of 5 hectares, Nogami Koi Farm is not a huge koi farm. What do you think enabled your koi to be recent successive award winners?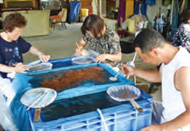 I think an eye for distinguishing superb lineages of koi and a firm strategy of farming our ideal koi are the only things we are required to have. The farming area, of course, decides the number of koi we can produce, but no matter how small the area, there are always some special koi and it's the farmer's ability and true devotion to develop prize winning koi.
I feel breeding conditions are as important as the lineage of koi. For example, I raised "Takara" in person from beginning to end, and "Yondan" was raised under the Narita Koi Farm's attentive management. There was one other important factor for both "Takara" and "Yondan" to win. They had such solid body shapes that they were able to maintain their ideal physical condition over the two years.
Ⅲ
Daily feeding and the finishingtouches to their koi
Q.What do you demand from koi food?
I think food should help koi not only to maintain their beautiful figure and color but also to help them gain weight without putting a burden on their body. Consequently, koi food must be easy to digest and properly absorbed. That's why we mainly use Hikari brand diets.
Q.How do you use food properly?
We must select a food suitable for the breeding conditions; such as in the field pond or in the spring pond, in lower temperatures and so on. Especially during the spring feeding, we're found the Saki-Hikari® series is essential because of the Hikari Germ™ already inside the food which helps us maintain ideal water conditions.
For koi we intend to exhibit in a show, Saki-Hikari® Pure White™ is a very effective choice to be used right before the show. Because we feed a large amount of color enhancing food to those fish during the summer season, their skin tends to yellow. By using Saki-Hikari® Pure White™ for a short period of time their yellowish skin will certainly become a beautiful white.
According to Mr. Nogami, "the fundamentals of koi breeding are managing the koi's physical condition by controlling their surroundings to best fit their needs. Food is one of the most important factors on which we should keep a watchful eye."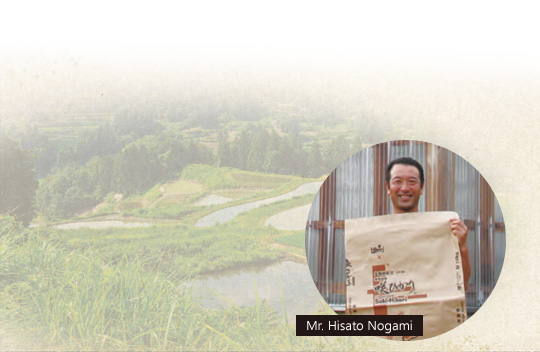 [an error occurred while processing this directive]