Hikari TECHNOLOGY

KYORIN FOOD INDUSTRUES LTD.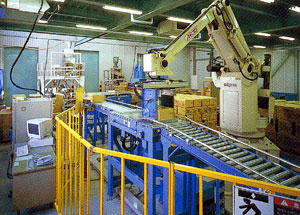 Processing&packing line at main factory
Production of Hikari Brand foods is undertaken by Kyorin Food Industries, Ltd. Whether the manufacture of special food in pellet form using extruder machinery or ultra-fine grain food using fluidized granulating machinery, we have amassed all manner of technology, from hardware to software, involved in food production. Kyorin Food Industries plays an important role in product development and manufacture, including the development of original manufactuaring equipment for new products.
Our Kansai Factory (Kasai City, Hyogo Prefecture), Fukusaki Factory (Kanzaki County, Hyogo Prefecture) and Kyushu Factory (Chikugo City, Fukuoka Prefecture) are all equipped with back up facilities to fill in for each other should any trouble occur.
Kansai Factory

The main factory for most of the pelleted products Hikari offers worldwide.

Kyushu Factory

This factory equipped with the most modern equipment available today. Hikari Flake and Pond Sticks are manufactured at this facility.

Fukusaki Factory

In order to make our newest and most advance diet for fish,it is the clean and safe factory eguipped with the newest equipment.

Extruder pellet machine at Fukusaki factory

Manufactuaring line of pellet food at Kyushu factory