TOPICS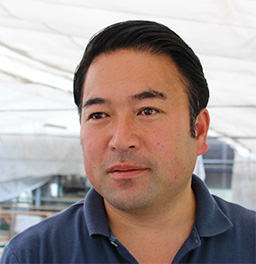 Sakai fish farm
President and CEO
Kentaro Sakai
The history of Sakai Fish Farm is very long. They started breeding Nishikigoi in the mountains in Hiroshima about 120years ago. They introduced the scientific breeding style earlier than other breeders and they have been making steady efforts to breed high-grade Nishikigoi.
The fifth head, Mr. Kentaro Sakai is the charismatic leader and has firmly established his position in Nishikigoi Industry.
They won the grand champion at All Japan Combined Nishikigoi Show in 2000 for the first time, and had been awarded the grand champion prizes 9 times in total until 2017.
"S Legend", the grand champion of 2017 All Japan Combined Show was reputed as the most beautiful Kohaku in recent years.
Mr.Sakai talks about Nishikigoi

Congratulations on your winning the grand champion prize at the 48th All Japan Combined Nishikigoi Show! Do you remember "S Legend" when she was 1 year old?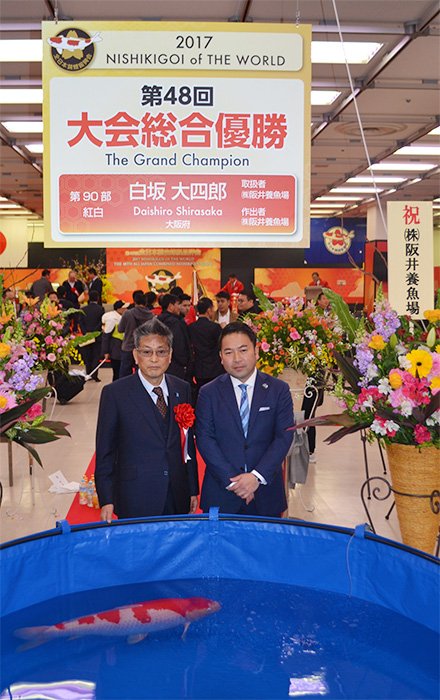 Unfortunately, I remember almost nothing about "S Legend" when she was 1 year old.
Mr. Shirasaka bought "S Legend" when she was 2 years old.
Honestly, I didn't have any idea that she would become better, because her color was light and her head seemed big compared to her thin body.
But, she grew rapidly from 60(cm) to 74cm when she was 3 years old. And I came to realize that she had something different from the others.
After that she kept growing, and came to have great dignity.
Is it the common case that the baby koi which did not seem to have a potential for a champion has completely improved after 3 years old?
Yes, sometimes I've had that experience.
The grand champion Kohaku of Mr. Chan Cheong at the 46th All Japan Koi Show is another good example. Mr. Cheong bought this Kohaku at our spring auction when she was 1 year old. Actually, she was not so expensive. But, she grew bigger and bigger, and came to stand out.
Honestly I never thought that she would become a grand champion at the All Japan Koi Show.
Is it difficult to tell whether or not the koi has champion potential?
Yes, that's true. It is very difficult, I think. I can predict the future to some extent but not 100%.
What do you think is the most important factor for the champion? Nature, bloodline or breeding condition?
All of them are important. But I think the most important is the bloodline, especially the combination of the bloodline of the parents.
If the combination of the bloodlines of a male and female pair is not good, their offspring cannot grow enough or they lose luster, even if you feed them high quality food.
The koi born of parents with a good combination of the bloodline can be a high quality koi, if they are kept with good food and in good pond environment?
Yes, I think so. They can grow better if they are bred in good conditions and with high quality food.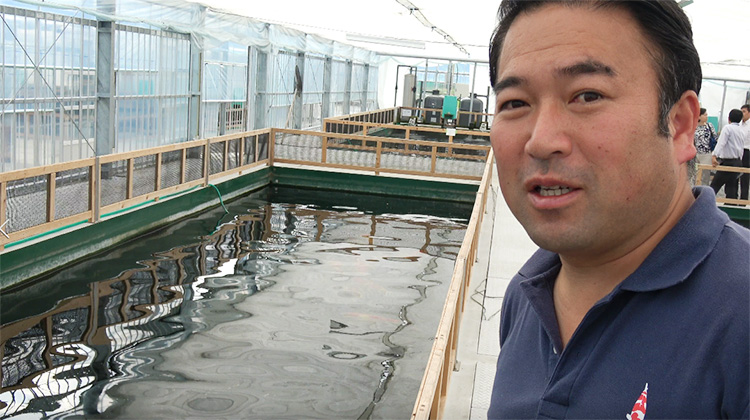 Please tell us about Oyagoi (the parent) of "S Legend". Which bloodline did you use?
The female Oyagoi is "Neo Universe" and the male Oyagoi is the offspring of "Tomahawk".
Why do you choose these bloodlines for the parents?
It is because they are distantly related species.
Neo Universe is the Rose bloodline and Tomahawk is the Donguri bloodline (Benihana bloodline), and they don't have strong blood connections. This is why I chose them as the parents.
Do you think that "S Legend" takes after her parent koi?
Yes, I think the quality of Beni of "S Legend" is very similar to that of Neo Universe, her female Oyagoi.
"S Legend" won 2 titles at the ZNA International Koi Show and the All Japan Combined Nishikigoi Show this year. Do you have confident to grand champion awards?
Honestly, I had absolute confidence that I would win the grand champion prize at the ZNA International Koi Show, but I didn't have that confidence at the All Japan Koi Show.
Her condition at All Japan Koi Show also looked excellent┈
Thank you, but I think her condition at the ZNA International Koi Show was the best.
So that's why "S Legend" won the champion prize by a unanimous vote at the ZNA International Koi Show!
Yes, I'm honored to have beaten our rivals at the Grand Champion by 50 votes to 0.It was the first time for the grand champion to get a perfect score at the ZNA Show. So as the breeder of "S Legend", I was really happy to hear this score.
As the breeder of "S Legend", what do you think her superior points are?
At only 7 years old she was already 97cm long.
Actually, 97cm long at 7 years old is the new record. The biggest koi I've ever bred in Sakai fish farm.
Moreover, she has a great potential to continue to grow. So, my target now is to enter fully matured "S Legend" in the 2019 All Japan Koi Show, the 50th memorial show, in Tokyo.
Sakai fish farm in the world

Sakai Fish Farm is one of the top breeders of Kohaku and Sanke, and their breeding and finishing technique is praised as top class in Nishikigoi industry.
The parent koi are grouped with each bloodline and kept for each.
They try to find out the best pair of the parent koi to produce much larger and much more beautiful Nishikigoi.
Their breeding facility is also outstanding.
There are more than 200 ponds in the greenhouse for each purpose including the "Champion House" which was newly built in 2016.
They also have 80 mud ponds for tategoi, and it covers an area of 225,760㎡ (about 55ac).
Their water cleaning facility has ability to purify and sterilize 600tons of river water per day.
And about 24,000,000 fries are bred per year.
It is not too much to say that Sakai Fish Farm is the best Nishikigoi breeder in Japan, or rather in the world.
What do you think is the big advantage of your koi and also your breeding style?
Our breeding is always controlled based on the data. For example, when we feed our koi, we measure the weight of all the koi and change the feeding amount based on it.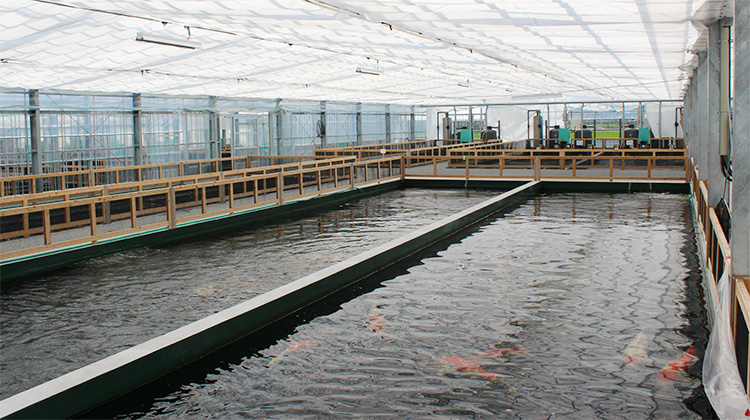 It sounds interesting. Do you weight all koi one by one?
Large koi are measured one by one in 100g ram units.
For example, if there are 10 koi over 80 cm long and their average weight is 10 kg, their total weight is 100 kg.
We can calculate the accurate amount of feeding based on this weight.
The maximum feeding amount in our fish farm is 1% of their body weight.
When is the maximum feeding season?
In our breeding farm, in the middle of August we start feeding the fish the maximum amount of food. And after the end of September, we reduce the feeding amount gradually, and control feeding to get the koi in their best condition for the shows which normally start in autumn.
You keep many koi in your farm. Is it a hard task to keep them all at good condition, isn't it?
Yes, it's really hard. But we know koi cannot grow well without our special care.
If we raise koi with much great care, they will be much more beautiful and excellent.
Do you mean that koi's condition depends on how much care you take in them?
Yes, I think so. If I am very busy doing other work and don't care so much about koi, their finished condition is not good enough. If I pay much attention to them before the show, they can be in their best condition at the show.
Do you mean that koi need not only breeder's great care but also great attention?
Yes, that's right.
If we give the koi a great deal of attention, we can know the koi's condition and the water condition at the same time. For example, the Shiroji of "S Legend" had not become white about 1 month before the show. So, I thought the water quality was not adequate for her and decided to move her into another pond. Then, her Shiroji improved quickly, and also her gloss and luster increased dramatically.
If we do not provide daily care and do not always give the koi attention, we can not find out the best environment for them.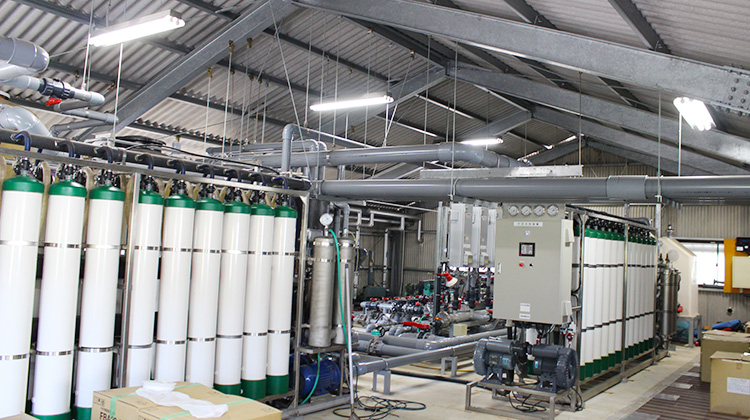 So, in this case, only the limited koi can be under Kentaro san's great care and attention?
Unfortunately, I cannot take care of all the koi, so I take special care of the show koi. I mainly manage their condition, how to feed them and how to get them to show condition.
What do you think is the key point in checking koi's condition? Have you found it by yourself?
Yes, I found it by myself. But it's difficult to explain. Because honestly, keeping koi requires natural ability to notice, like a sixth sense.
I can notice a problem to be solved even when other people think it might not be a problem.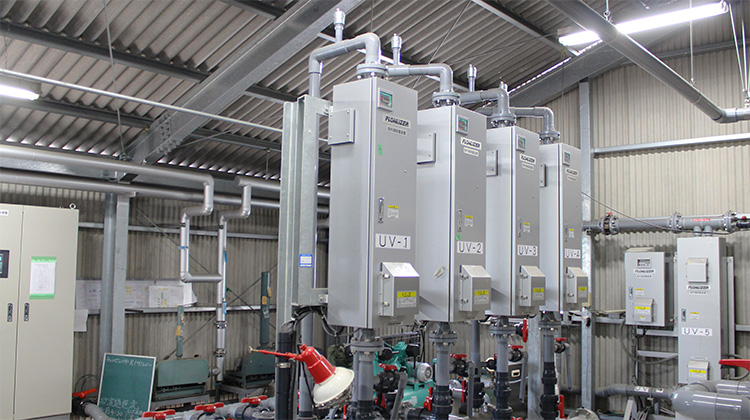 Can you find out the cause of problem even if your staff cannot notice?
Yes. I can find a problem and take concrete measures to solve it when I see the water condition. Such as "it's better to move the koi to another pond".
Please let us know your favorite koi that you have bred?
The highest grade koi for me is koi which have the 3 factors of beauty, which are a beautiful pattern, good proportion, and good quality.
In this case, if I had to choose among all former grand champions from our fish farm, my favorite koi are "S Legend" and "M Legend". I think they are the greatest koi I've ever bred.
In that case, how was "Neo Universe"?
That is very unfortunate, but she spawned only one time. She spawned for the first year, and she never spawned after that.
If Neo Universe had offspring every year, we could have the highest class koi like "S Legend" every year.
How much percentage does the bloodline affect the offspring?
It is difficult to say a concrete percentage.
To take an example, we had a female koi named "Yamato" who won the champion title.
I chose "Yamato" and one male koi in our farm to be a pair.
Their offspring grew without any problem until they were 2 years old, but as they got older, their growth rate decreased. I thought this pair might not be matched well.
So, I changed to another male. Then their offspring grew bigger and bigger.

Considering this, I came to think the male Oyagoi was the key to producing better koi.

Even if the quality of the female Oyagoi is good, if the male doesn't match her, their offspring cannot be better, but rather grow worse.
I am very sure that the excellent koi all originated from the good combination of their parents.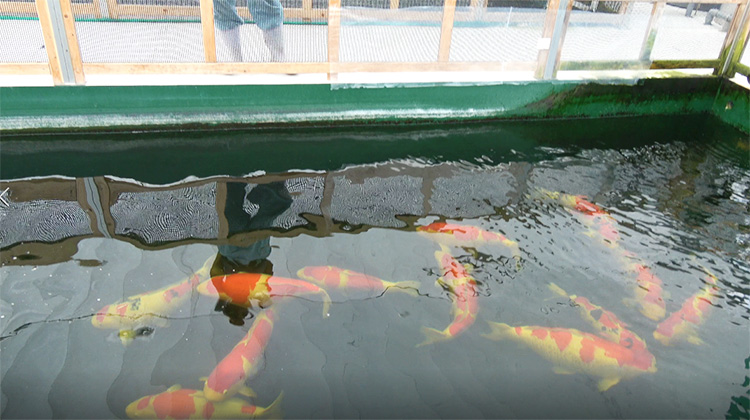 Which do you think is more important, potential of male Oyagoi or combination of the parents?
More important is potential of male Oyagoi, especially the bloodline with growth potential.
I think nothing is more important than the Male Oyagoi's bloodline for large growth. Offspring will never grow well if the male Oyagoi is from a bloodline of little growth, even if he himself has a good pattern and good body proportion
So when I look for and buy male koi from other breeders, I check the information on their bloodline, especially to know whether that bloodline can produce koi who can grow big.
Do you have any future plan for your koi?
Our plan is to breed the champion koi every year, anyway.
Do you want champion koi who exceed 1 meter (39")?
No I that's not what I mean. I want the koi with the 3 factors of beauty, a beautiful pattern, good proportion and good quality, even if she does not exceed 1 meter (39").
Don't you focus on raising the koi over 1 meter (39")?
No, I don't care about that. I focus on the 3 factors of beauty rather than size.
As you know, the jumbo koi with a bad pattern cannot be the champion a show, no matter how much she exceeds 1 meter in length.
So, I think the koi with these 3 factors and a size over 90cm (35") meets the requirements to be a champion.
Do you breed only Gosanke (the big 3 types of koi. Kohaku, Showa and Sanke) in your farm?
Yes. We focus only on breeding Kohaku and Sanke.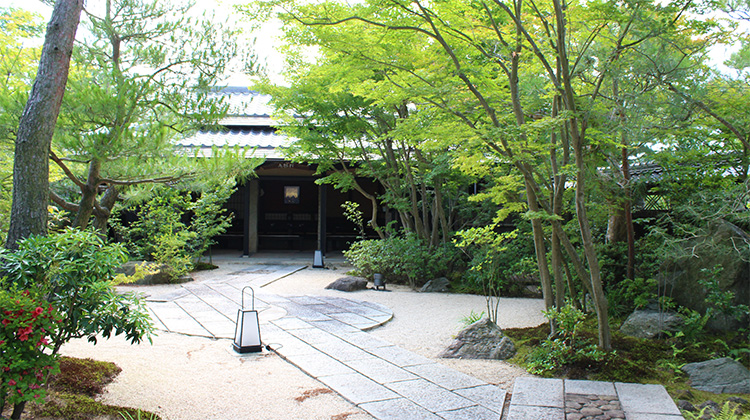 Mr. Sakai talks about Koi Food

Mr. Sakai also pay a lot of attention to the food.
While using carefully selected food which is commercially available, they developed their original bland food for breeding more beautiful and excellent Nishikigoi.
They've got continuous result with their wide variety of food for all size of Nishikigoi for each purpose depending on the season.
The high quality food is indispensable for breeding high quality Nishikigoi┈.
Mr. Kentaro Sakai has always shown great dedication to breeding exceptional Nishikigoi.
We've heard you have the original brand koi food. Who makes the food for you?
All of our foods are manufactured by Kyorin.
Why did you decide to ask Kyorin to make your original brand koi food?
This is because Kyorin can perfectly meet our various requests.
We often make requests to Kyorin "Please make this kind of food┈." "Please improve this point┈"etc., and Kyorin is certain to provide the food which completely satisfies our needs.
So, we use only food provided by Kyorin.
Please explain your original brand food.
Sure. First, this is "Sakai Color Mash", the food for the fry that have just hatched out.
We feed the fries a color enhancing food which contains Spirulina.
After the 1st fry selection, we feed them Sakai No.2 and No. 3. They are also our original food manufactured by Kyorin.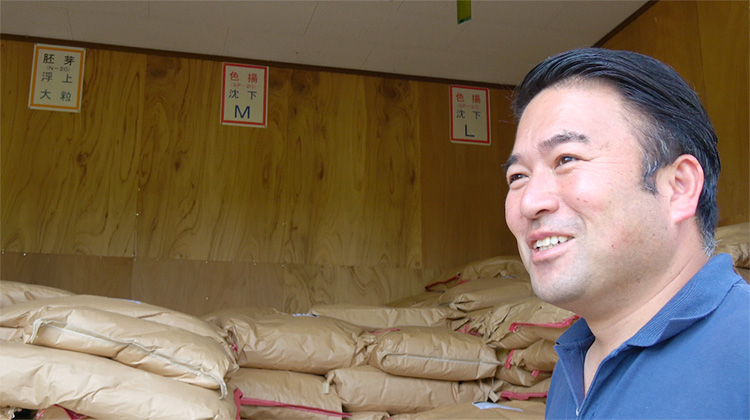 What is N-20?
This is wheat-germ based food without color enhancing capacity. We use this as the finishing food for the koi show.
What is next to N-20?
This is Sakai Super Growth Food. This is a special formulation for growth without Spirulina. Kyorin also created this food especially for us.
Does N-20 have the higher protein value?
Yes, N-20 is a high protein and high fat food. Kyorin developed this food in response to our request for help in making the koi grow large.
Why you have such a wide variety of original brand food, Sakai Super Growth Food,Wheat Germ Growth Food, Mash Food and etc.?
First, we asked Kyorin to make mash food for us, and they provided the perfect food exactly what we were looking for.
I thought Kyorin could manufacture our desired food.
That's why I decided to ask Kyorin to make for us not only mash food but also the whole range of our original foods.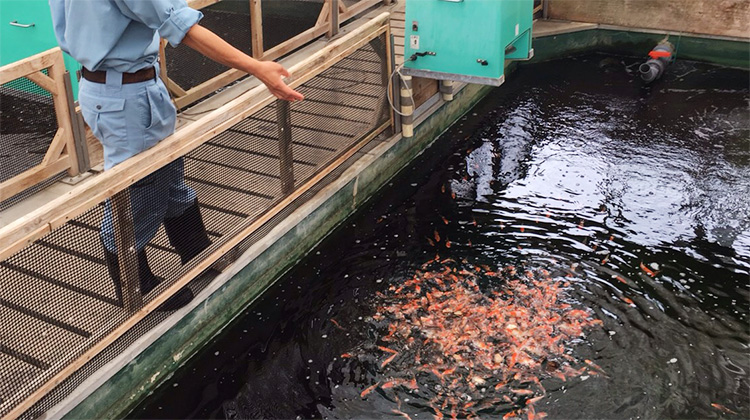 Do you think the food can play an important role in breeding koi?
Yes, of course. Food is very important to bring out the koi's full potential.
Even if a koi comes from good quality parents, she cannot grow large without high quality food.
In particular, I put a high priority on the palatability. If the food has higher palatability, koi are willing to eat it. But if not, koi really don't want to eat it
So, I always ask Kyorin to make food with superior palatability. And they always provide the food with superior palatability.
What is the difference between Sakai Wheat Germ Growth Food and Sakai Super Growth Food?
Sakai Wheat Germ Growth Food is a low protein food. We decide which food to use based on the water temperature. Normally we use Sakai Wheat Germ Growth Food when the water temperature is about 22℃, while Sakai Super Growth Food is used in higher water temperature above 24℃.
Last one is Sakai Color Enhancing Growth Food. What is the distinctive point of this food?
We feed one year old koi only Sakai Super Growth Food and Sakai Color Enhancing Growth Food during winter season. And we feed the koi in the mud ponds Sakai Super Growth Food and Sakai Color Enhancing Growth Food in a proportion of 1:1 when the water temperature goes around June.
Sakai Color Enhancing Growth Food is a growth food but contains Spirulina.
I believe this food is probably the first food which has both growth efficiency and color enhancing capacity.
This is a special food which I planned and then asked Kyorin to realize that request.
What was the most important point for you when you asked Kyorin to manufacture your original brand koi food?
I asked Kyorin to come up with a food that is not only highly nutritious but also highly palatable. So, our food contains many selected ingredients to improve palatability. The smell is especially very good
Honestly, I can tell by the smell whether or not the food quality is good. I think that food with a strong smell is not such good quality. But Kyorin food smells good.
What's it like?
It's like cookies. It smells like cookies baking in the oven.
How long do you feed Sakai Color Enhancing Growth Food?
In June or July, we mainly feed the koi in the mud ponds Sakai Color Enhancing Growth Food and Sakai Super Growth Food.
Then, at the end of September, we gradually change to N-20, a wheat-germ based food, to promote Shiroji.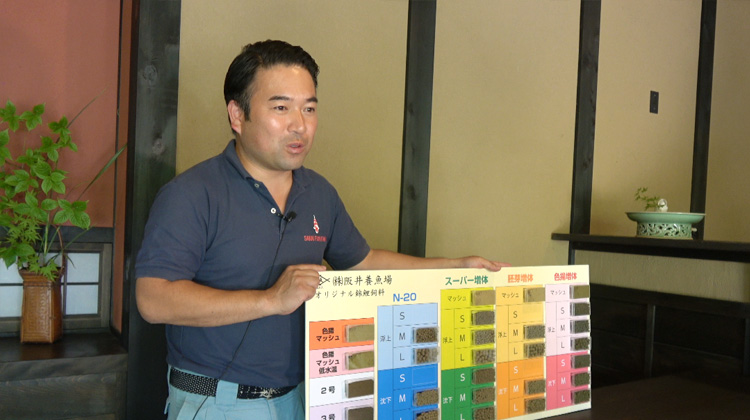 ZNA international Koi Show is normally held in November or December. Can they develop desirable shiroji even though they eat color enhancing food until the end of September?
Yes, sure. 2 months is enough for them to develop their Shiroji.
To make koi grow large, of course the bloodline is most important thing. What is the next? Pond environment or food?
I think both pond the environment and the food are important.
For example, 30 large koi in 100 ton ponds will not grow bigger even if they are fed enough. As you know that's too many fish.
A proper number of koi in the pond and high quality food should help to make high quality koi if they have champion potential.
Do you think your original brand food produced by Kyorin would satisfy your requirements?
Yes sure. That's why our koi have been able to win the grand champion prize at so many shows.
Do you have any additional request to Kyorin's food?
I believe the current food varieties are best for us.I am really satisfied with them. So, I have no additional request.
The other breeders are also using your original brand food, aren't they?
Yes, we've received some requests from overseas dealers and hobbyists. So we export our food to several overseas countries.
How is the reputation?
It's very good. We've heard that their koi grow large and the color is enhanced. The best thing is that the koi are eager to eat the food.
How satisfied are you with Sakai original food?
I'm really happy with them. I'm 120% satisfied. I have no more requests at present. It's the perfect food!
Do you intend to continue using food manufactured by Kyorin?
Yes, we will use only our original food made by Kyorin and Kyorin's original food.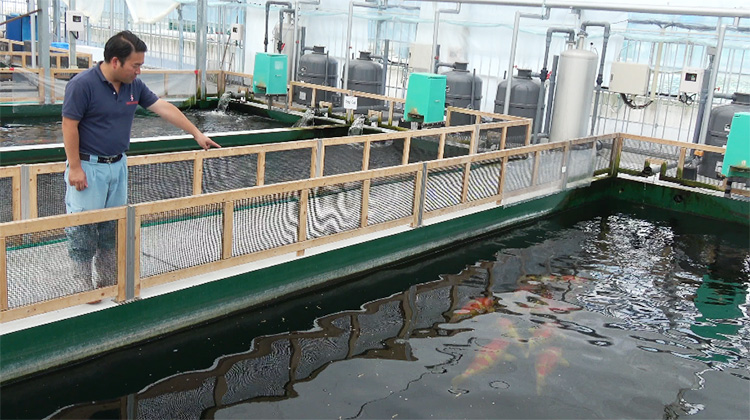 If you can unique another food, which kind do want next?
Basically I'm very satisfied with the current varieties, but if I had to say, a food to promote Sumi (black color) would be great if we had a food that had a noticeable effect on the dull black color of the koi.
In our lay opinion, the bloodlines and the water temperature has a noticeable effect on the Sumi. But do you think it would be developed by the food also?
Yes, that's the point. Sumi can be greatly affected by the pond environment and the bloodline. So, that's why we want a food that can help to enhance the black color even just a little.
Do you use Kyorin's original food also?
Yes, I use "Saki-Hikari Mash" and "Saki-Hikari R Balance" which are recently developed foods. I normally feed them to the koi in the mud ponds in early spring. In cooler water temperature, I mainly feed them Saki-Hikari Balance (without color enhancing efficiency).
What is the point to choose your original brand food and Kyorin's original food?
It depends on the purpose. If we want the koi to become large even in the winter period, we feed them our Sakai Super Growth Food and Sakai Color Enhancing Growth Food. But, if the koi don't need to grow so much in winter, we normally feed them Saki-Hikari Balance, a much healthier food.
Sakai Fish Farm will continue to work hard to grow excellent koi.