TOPICS


Mr.Daishiro Shirasaka
Grand Champion The ZNA International Koi Show in November 2016,Grand Champion The All Japan Combined Nishikigoi Show in January 2017,Won 2 titles by an almost unanimous vote.
Her name is "S Legend".
Insight from Mr. Daishiro Shirasaka How this "Legendary" Kohaku became the champion.
Awarded Japanese for the first time in five competitions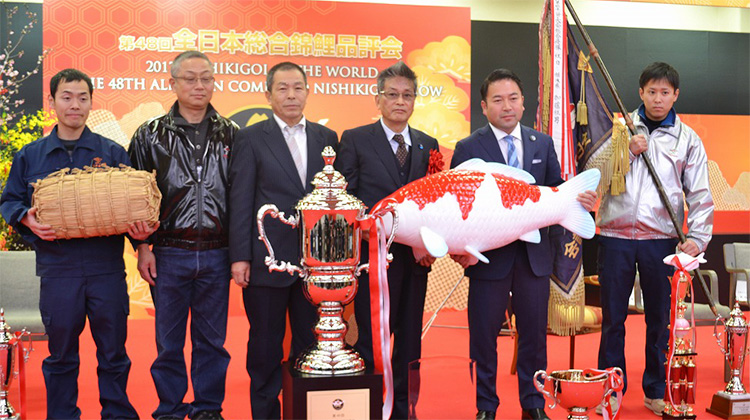 Congratulation on your winning grand champion prize at 48th All Japan Combined Nishikigoi Show!
Thank you very much.
First of all, please tell us how you felt when you found out your koi won the grand champion award?
Actually, I felt " Yes! I finally did it!". Honestly, I had absolute confidence to get a grand champion award at the ZNA International Koi Show before my entry. My only concern was how many votes I might receive.
But for the All Japan Koi Show, I was not sure whether or not my koi could win the championship. I just thought this koi had a very good chance to win----- (I thought she would probably be a champion, but I was not confident until the judging was complete.) So, I was really happy to hear she was awarded the champion honor!
It's been 5 years since the last time a Japanese won the grand champion at the All Japan Koi Show. And you won by a large margin over your rivals. How do you feel now?
In some previous contests, I failed to win a champion award. But if I were one of the judges, I definitely would have voted for my koi. Photographers at those shows and others mentioned "Your koi must be the true champion, I believe." In some cases, a judge personally apologized to me about not winning.
I had a disappointing experience many times. And I could not forget this unpleasant feeling for a long time, but on the other hand I always believed I would definitely win the grand champion in the near future.
So, I'm so excited and pleased that my koi has become the champion of two of the largest International Koi Shows in succession.
At recent koi shows, the koi owned by the foreign hobbyists won the grand championship, so it's my great pleasure that my koi in got these Japanese championships.
Everyone called me "the 2nd prize man".
Actually, I took 2nd prize a total of 5 times.
But now my koi is a true champion!
Just after I got the championship, I've gotten better treatment. Honestly, it has been completely different than before. Actually, the Kyorin Staff and some koi farms representatives now come all the way to see me.
Also, I was treated like a celebrity at the show celebration party. Many unknown guests came to celebrate with me and took many photos.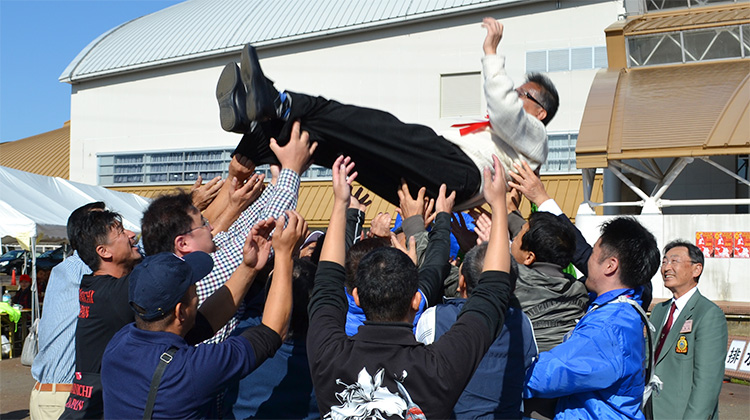 A total of 1,882 koi were entered in the show. What do you think made the biggest difference and allowed your koi to get ahead of its rivals?
I believe that her natural but beautiful body shape helped her to take the grand champion prize. She is still young, so she has a soft but perfect body line.
Moreover she has snow-like shiroji, beautiful hi-ban and excellent luster.
I'm sure her biggest advantage was her good body conformation. Her body line is natural and stable. So I believe she may be much better in the future.
In fact, it is said that koi judges normally give 50% weighting to koi body conformation. How do you feel about this?
I agree. I also focus on a koi's conformation. I want to win in larger size classes, so honestly I might give 60% weight to the koi's body conformation.
S of Sakai fish farm,
S of Shirasaka take "S Legend"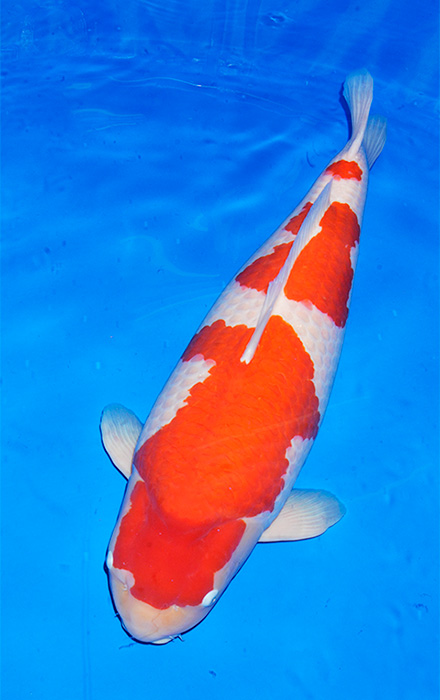 Please tell us more about your champion. What does your koi's name mean?
Her name is "S Legend". "S" is the first letter of both "Sakai Fish Farm" and my name "Shirasaka"
She was born in July and when I first saw her she was 16 months old and 59cm (23") in length. The next spring, she became 62-3cm (24.5") long.
When she became 73cm (29") at 28 months, I nominated her for the ZNA international Koi Show in Kobe, but unfortunately, she was rejected.
Honestly, I thought she would be a finalist for the grand champion, but she couldn't even catch the second prize.
I think this was because her Hi-ban was little bit light, because she was only 28 months old and her body was still growing rapidly. I know the judges of the ZNA Koi Show normally tend to look for excellent finishing condition.
But I think the "dignity" is also important when we judge Nishikigoi. And "S Legend" should be ranked as "higher dignity" for pattern, body shape and quality. But if they focused on finish condition only, "S Legend" couldn't be a winner.
However, finally, your "S Legend" got the grand champion by unanimous vote at the ZNA International Koi Show in November 2016!
Yes, I had strong confidence she could be the winner at the ZNA show. Only my concern was how many votes could she get?
I planned to get to the show area in the evening of the day of judging. But Kentaro san (Mr. Kentaro Sakai) made a phone call to me the day before and said "Please come over here now!" He also sent to me videos of "S Legend". So, I decided to leave one day earlier.
It was just 40-50 days earlier when I saw "S Legend" at Sakai Fish Farm in Hiroshima. But when I saw her at the show, her conditions was completely different, she was so dazzling. I was really surprised, especially at her pure white shiroji and overall luster.
I've thought "S Legend" would surely be a winner, but honestly, I never thought she could be finished and in such excellent condition in only 40 days!
The technic of Sakai san was so wonderful!
It might be my prejudiced thinking, but the judges from abroad tend to check the pattern and also whether the koi has any defect or not when they judge the koi at a show. So, I thought some judges might vote to another koi. But fortunately, I won the champion prize by a unanimous vote!
As I mentioned, I was so frustrated because "S Legend" had not won the grand champion even when I really had lots of confidence.
But now I believe it's better to "leave the past in the past".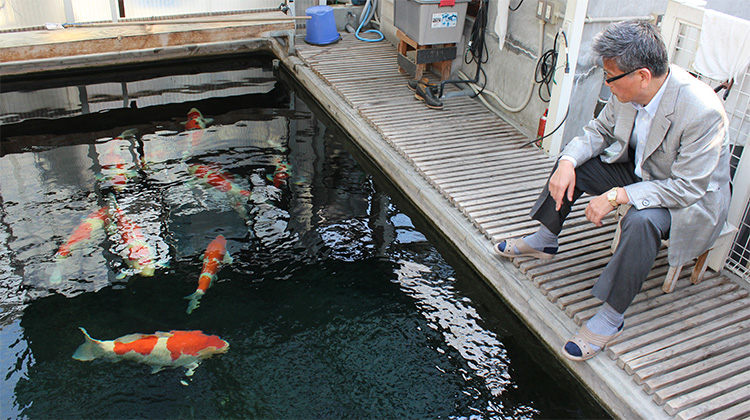 I've heard you first saw "S Legend" when she was 16 months old. What is your first impression of her?
When I buy baby koi, I usually buy 3 or 4 at one time.
At that time, I kept gazing at the koi in the pond to try to pick some, but couldn't find any I liked, because baby koi are thin and their color is very light.
But I continued to search for the best one and finally I found "S Legend".
I liked her body line, though she was thin when I bought her.
It is said that a koi with a solid body will grow bigger. But I don't think so.
I thought the clear and slender body is fine when a koi is younger.
When I saw "S Legend" I thought she could grow large.
Also, I l liked her body line and her hi-ban which was still light red but very even.
Actually, I didn't have any idea she could become champion at that time. I just thought she might have big potential.
My target always was to get the prize in the larger size group. I don't have any interest in the 70Bu or 80Bu class. So, I want a koi who will grow larger, even just a 1cm or 2cm longer.
Be bigger than the finish ...
Do you think diet has an influence on a koi's condition?
I normally don't focus on finishing the koi for the best condition at the show but rather growth as a priority. I'm not an apple-polisher, but I feed my koi only the diet made by Kyorin (Hikari brand). Of course, I change the formula based on the season, but I only use Kyorin's food.
What's your technique?
I mix sinking food and floating food in the ratio of 4:6.
I really want to feed them in the ratio of 1:1. But the water at the bottom of my pond is circulated, so I avoid feeding too much sinking food.
I select the food based on the temperature. During this season (end of April), I gradually change from more digestible food like Wheat-Germ or highly digestible Multi Season (Saki-Hikari line) to Balance (Saki-Hikari line). And I will feed Growth or Color Enhancing (Saki-Hikari line).
I feel like the feces of the koi fed with Kyorin's food is noticeably less. I think the other manufacturer's food tend to produce much more feces than Kyorin's food.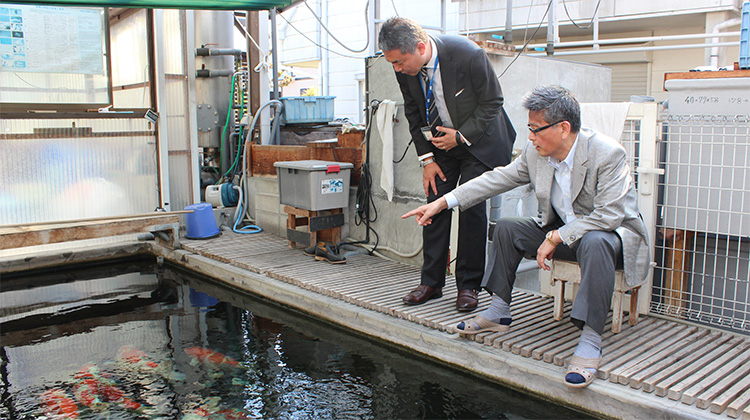 Can you tell us about your pond?
The main pond is 1.5m (5') deep which I think is shallow. Water capacity is about 25t (6,600 gallons), and the filter and settling tank is about 15t (4,000 gallons). So, 40t in total. There are 10 koi in this pond.
I also have another 10t (2,650 gallon) pond and 2t (525 gallon) filter tank and 3 koi are kept in it.
How much and how often do you feed for your koi?
3 x 200cc (XX ounces) cup for the koi in main pond each time. Maximum 4 times per day. I like to feed every 2 to 3 hours. I think 600cc should be the maximum feeding amount at one time.
Around what time do you feed your koi?
I feed them in the morning, noon and early in the evening. I don't feed them at night time when the water temperature becomes lower.
The first feeding is at 6 am, just after I wake up in the morning.
Then I clean up the pond and tank until 8-9 am. I change water and clean the pressure filter of the smaller pond every day.
The 40 ton main pond has 3 settling tanks and 3 pressure filters, so I clean 1 each day, so all are done every 3 days.
Maintenance is an important part of the success.
Aiming to go beyond the meter with the current beauty
Which food is your 1st choice?
I prefer Saki-Hikari Growth. I believe the Growth Diet helps my koi add weight and girth faster.
Normally I always use growth food, selectively color enhancing food. Of course I know color enhancing food is better to promote the brilliant color of koi, but if the koi's condition is good, her red color would be naturally enhanced. So, I think there is no need to force it.

I also like "Saki-Hikari Pure White". Even with the higher cost!
It promotes snow white shiroji indeed and in a short period of time. I had heard about the effect of this food. But honestly seeing it with my own eyes I was shocked when I saw the actual effect for the first time. Especially in case of "S-Legend" I could see a noticeable difference using Pure White.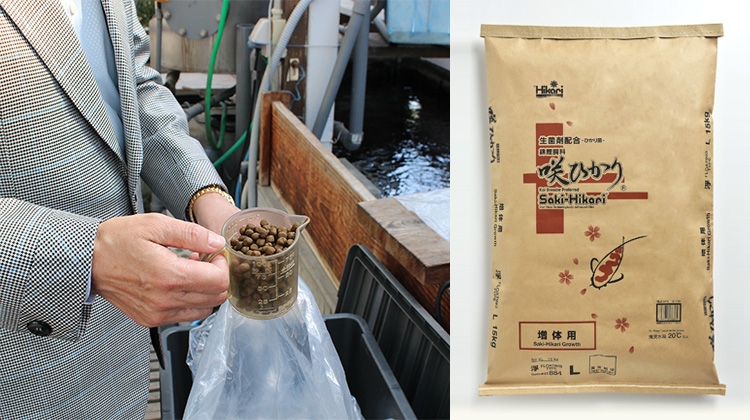 How do you feel about the efficacy of Saki-Hikari Growth?
Yes, my koi have added weight and increased girth. So I could see the effect of Saki-Hikari Growth with my own eyes.
When do you stop feeding color enhancing food?
In August or September, I stop feeding color enhancing food. As I said, I really focus on their growth, I feed only growth diet then.
Do you have any future plan for your koi?
For the first I want to keep my "S Legend" to maintain her beautiful color and proportion even if she exceeds 1 meter (39").
I know there have been jumbo koi champions.
But I want maintain the condition of "S Legend" at the same level as her appearance at the ZNA Koi Show in Niigata, even as she continues to grow.

Another plan is to let my 3 year old Kohaku at 79cm (31") length grow more. I cannot judge now whether she will become beautiful like "S Legend" but I believe she also has potential to be a champion.
I thought "S Legend" could win the champion when she was 3, but the Kohaku is bigger than "S Legend" already. Although I am not so confident at this moment like I was with "S Legend", I have quite an interesting koi in my hand and I wish to see how it progresses.
My target is the koi shows 2 years from now. But actually, it could take 3 years for her to become beautiful koi like "S Legend".