Spirulina - This ancient algae can help your koi develop vivid coloration, naturally!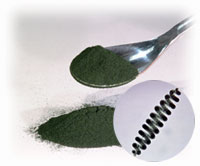 Spirulina algae under a microscope
Carotenoids can help Nishikigoi develop beautiful red color. Without adequate levels of carotenoid a koi's color and beauty can be lost forever. Spirulina, an algae rich in carotenoids has survived more than 3 billion years, is known as one of the world's best natural color enhancers. The name Spirulina came from the word "spiral" because it looks like a compressed spring when observed under a microscope.
Hikari Excel, Spirulina and Saki-Hikari Color Enhancing Diet all contain "just the right amount" of premium-select Spirulina allowing them to provide aggressive color enhancing capacity without any negative impact on the white areas of your koi.
| | |
| --- | --- |
| Koi fed none of the Hikari color-enhancing diets | Koi fed Saki-Hikari Color Enhancing Diet |

Back