News Release

The 51st Niigata prefecture Nishikigoi show (Nogyo-sai)
Date:2011-11-02
Date : October 29-30th.
Show Site : Ojiya City General Gymnasium
Grand Champion

Category : Kohaku
Size : 82cm
Koi Age : 5 years old
Owner : NOGAMI YORIJO
Breeder : NOGAMI YORIJO
Dealer : NOGAMI YORIJO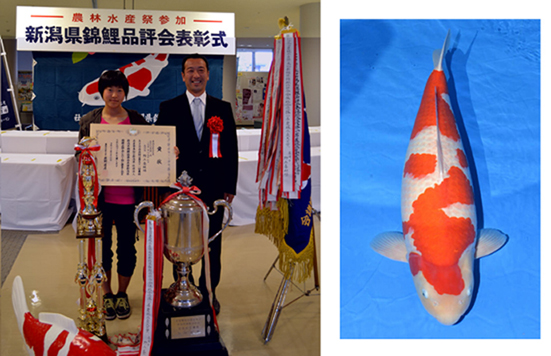 Remarks
This Grand Champion Kohaku fed and grown using "Saki-Hikari® Series, etc. and finished up by Saki-Hikari® Pure White™.
Grand Champion Runner-up

Category : Syowa Sansyoku
Size : 82cm
Koi Age : 5 years old
Owner : DAINICHI YORIJO
Breeder : DAINICHI YORIJO
Dealer : DAINICHI YORIJO